Physicians have to provide a high-quality healthcare service to cater the needs of their patients. Along with a busy schedule, physicians have to complete necessary administrative responsibilities as well – such as medical billing, coding, and credentialing. Physicians normally have two options either to outsource medical billing services, medical coding services and physician credentialing services to a trusted company that knows the craft or do it in-house (which certainly incurs more cost).
Medical billing demands a lot of efforts and valuable time – and with the passage of time, it gets difficult for you to compile all your data to prevent it from impacting your revenue. It is also crucial to hire people who are trained in handling and maintaining medical billing properly. Additionally, if the process becomes slow or leads to errors, then it will also affect your credibility.
This is the reason why physicians turn to medical billing companies to manage their claims and look after their revenues. If a simple query on your search engine "medical billing companies near me" brought you to this page, then you are in luck. Read on to find out anything and everything about medical billing and how to find medical billing companies near you.
What are medical billing services?
To save your time as well as the energy of your staff, you should seek help from professional medical billing companies like Sybrid. An independent medical billing company provides its services to develop, submit and inquire about the health insurance claims, which eventually saves up to a lot of your staff's time.
These professional medical billing companies hire trained staff for different medical needs to provide the best of their services according to their experiences. The designated staff members are highly trained and knowledgeable about each company's policy.
A medical billing company will also help you in following up on your rejected claims and negligent accounts.
What's the difference between medical billing and medical coding services
In Medical billing and coding, both require your patient's medical records. Medical coding means to provide the Current Procedural Terminology (CPT) and International Classification Disease (ICD) codes to procedures and physicians respectively to be prepared for submitting claims. On the other hand, medical billing is actually the process of submitting and following up on the claims.
Medical billers use software specially made for billing purposes. By entering the codes and information of patients, insurance claims can be easily filed. From both services, medical billers get more opportunities to communicate with the medical staff and the patients directly.
Some companies offer both services – However, some prefer to provide only medical billing service exclusively.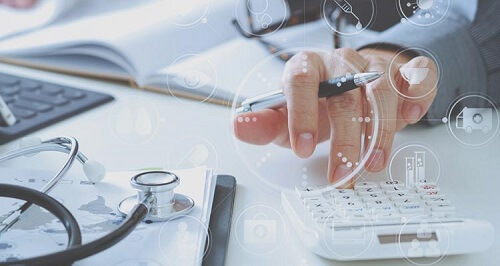 Why do physicians outsource medical billing services?
Hiring a medical billing service provider can provide you several benefits – However, the benefits depend on the type of business you run and how you manage your workflow.
When your work grows over the period of two to three years, to this point, it becomes nearly impossible to handle claims by your office- staff. In this case, getting along with a medical billing company will ensure you that all your claims are no longer pending and are filed timely and accurately without hitting the line
Some of the major benefits that outsourcing medical billing companies can provide include:
Improved workflow and stress-free practice with the office staff
Confusion alleviation while dealing with payers concerning company payment policies.
Faster claim process
Error reductions
Access to contact trained specialists
Profitability improvement
Reduced costs
Timely claims processing
Patients satisfaction
Moreover, to remain focused on the practice, physicians need to reduce stress levels – using medical billing company services physicians can actually help them to concentrate on the practice.
How much do the medical billing services cost?
Costs for the services of medical billing vary between the companies. These costs are based on the total number of submitted claims, a setup fee, percentage of collection, and monthly charges. You can contact your local service provider for the pricing model individually – you can also search for medical billing companies near me over the web to find the results quickly.
Of course, the best pricing model for you depends on how bigger or smaller is the size of your business and expertise. If your practice is small, having fewer claims, then the costs of the entire package may come affordable. Although many practitioners prefer the percentage collection model, where when a claim resolves, practitioners get paid first before the medical billing company is paid.
Some common methods for billing the medical billing services are:
Hourly: Medical billing companies may perform the work on hourly rates – but in particular domains like workflow set up and compliance.
Monthly: Medical billers may charge monthly with flat rates for their services – as, for the software companies, they may also charge for every user account with monthly charges.
Per claim: To give away the services for claims, medical billers may charge a small fee for each claim.
Per Provider: Claims are often handled by means of provider number. For instance, if a medical office has 6 health service practitioners, that means it has seven providers. Many Medical billing companies specify charges per provider and month.
Collection percentage: If your billing managing company is looking after your revenue cycle – like AR collection, then you are expected to charge a percentage from the total collection.
It's common if a billing company charges you with more than one of the above-mentioned pricing options. For example, you might have to pay a monthly fee along with the percent on revenue collection.
Medical billing services that sustain
With the increasing numbers of insurance claims, no matter what could be the reason – the demand for sustainable and dependable medical billing companies has been raised. Among the best medical billing companies listed by Digital.com  is SybridMD, which provides numerous medical services such as coding, medical billing, transcription, credentialing, front-office management, and telehealth billing.
Moreover, SybridMD ensures that the claims processing and submitting doesn't take much time more than 48 hours right after having the required details. To get the process faster and accurate in medical billing look no further than SybridMD.